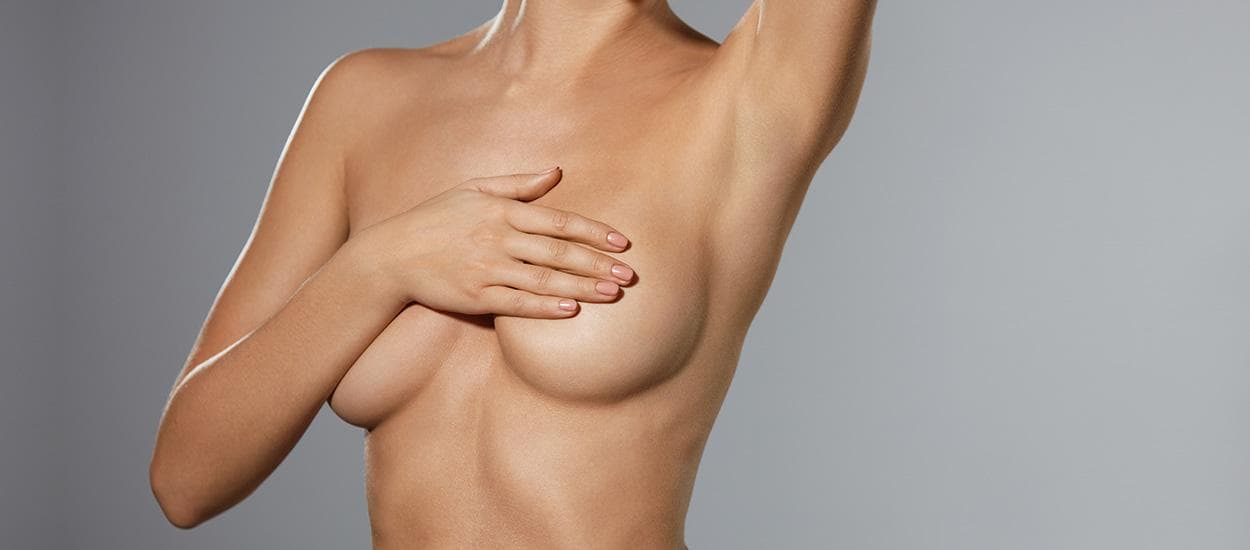 *Recovery times / Results May Vary
Do you want to improve the appearance of droopy or saggy breasts? If yes, breast lift surgery may be an option for you. A breast lift, also known as mastopexy, is a procedure that seeks to perk up sagging breasts, a condition known as 'breast ptosis.' Oftentimes breast lifts are combined with other procedures such as breast augmentation or breast reduction. In cases like these, the breasts are lifted as they are increased or decreased in size. The result are breasts that look and feel better.
Y ou may be a candidate for breast augmentation surgery if:
- You are bothered by the feeling that your breasts sag or have lost shape and volume
- Your breasts have a flatter, elongated shape or are pendulous
- When unsupported, your nipples fall below the breast crease
- Your nipples and areolas point downward
- You have stretched skin and enlarged areolas
- One breast is lower than the other

Breast lift surgery is a highly individualized procedure and you should do it for yourself, not to fulfill someone else's desires or to try to fit any sort of ideal image.
What is Breast lift ?
A breast lift, also known as mastopexy, raises the breasts by removing excess skin and tightening the surrounding tissue to reshape and support the new breast contour. Sometimes the areola becomes enlarged over time, and a breast lift will reduce this as well.

A breast lift can rejuvenate your figure with a breast profile that is more youthful and uplifted. A woman's breasts often change over time, losing their youthful shape and firmness. These changes and loss of skin elasticity can result from:
- Pregnancy
- Breastfeeding
- Weight fluctuations
- Aging
- Gravity
- Heredity

Types of Incisions
There are several types of incisions that are possible. All incisions are made according to the contour of the breast so that scarring is hidden and minimal. Here are the different types of incisions:

1. Anchor Incision (Invert –T) – this includes an incision around the areola, another along the breast crease horizontally and one that connects both of these. This is the most invasive but has to be used if there is an extreme degree of sagging. It's the preferred method if there is also a breast reduction done simultaneously.
2. Lollipop Lift – this one is for those who have moderate sagging. The incision is done around the areola and vertically down to the crease in the breast, simulating somewhat a keyhole. It is commonly used when women are not getting breast implants with a lift.
3. Peri-Areolar Lift –This incision is for those who have moderate or mild sagging. It's used if breast implants are also used.


Incisions will fade over time and improve. Your goal during the recovery period is to keep the incisions free from infections. Infections can worsen scarring.
Result and Follow up
The surgery time is varied to the numbers of the concerned areas, approximately from 2 to 4 hours. The patient will need to undergo general anesthesia during the operation. Lab Check-up is required to the patient before the surgery. After a few days, you will have the surgical drains removed at the doctor's office. Your incisions will look red or bright pink and after time, they will fade. Your stitches will be removed after a few weeks. During this time, a support bra should be worn to decrease the swelling of your breasts. Your breasts will need a few months to show off their new improved shape. However, nipple and areola sensation will take several months to return. You may return to work after about a week with your doctor's permission.

---
Testimonials
---
Testimonials Write a review
Order by:
Be the first to leave a review.
Show more
.