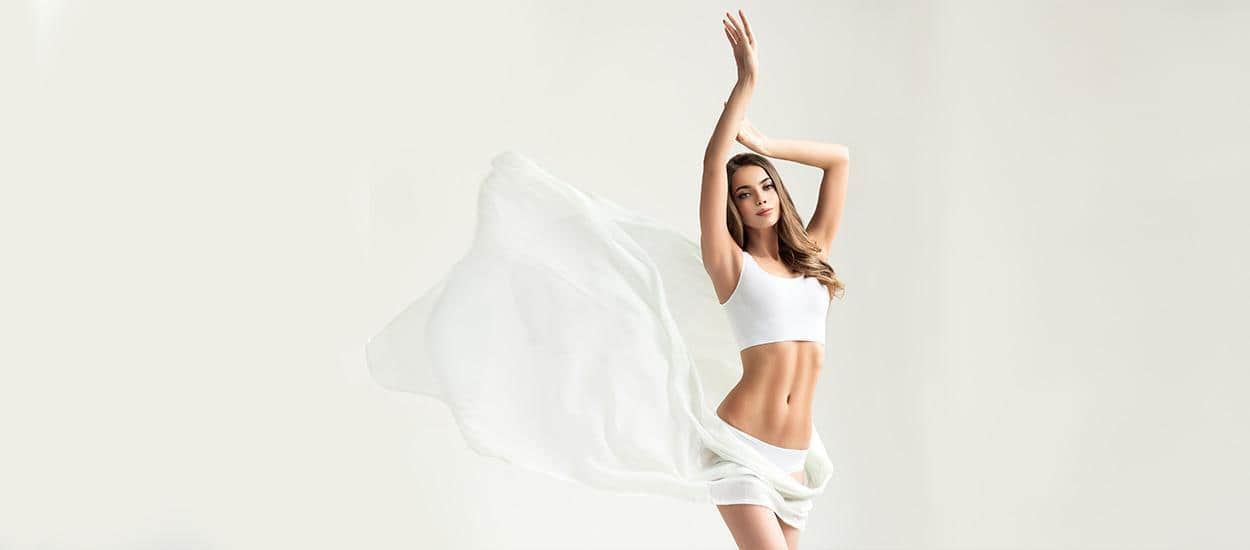 *Recovery times / Results May Vary
For many people, achieving a flat, well-toned tummy can be nearly impossible without surgical intervention. If you struggle with excess skin, weakened or protruding abdominal muscles, and stubborn fat that can't be resolved by diet and exercise, then a tummy tuck may be the solution for you.  A Tummy tuck, also known as abdominoplasty, tightens abdominal muscles and removes excess skin and fat in the mid-section caused by pregnancy, aging, weight fluctuation, and genetic influence. This procedure contours the abdomen and rejuvenates the skin by tightening the muscles and re-establishing a firm, flat tummy and slimmer waist.
W eight fluctuations, aging, and pregnancy can take their toll on your middle. Stretched out skin, loose abdominal muscles, and belly fat are common in both men and women. A tummy tuck restores a flatter, tighter appearance to the abdomen. You may want to consider a tummy tuck if:

• You have excess abdominal skin
• You have stubborn abdominal fat
• Your abdominal muscles are stretched out or separated

For some patients with good skin elasticity, but some stubborn fat, liposuction alone may be able to restore a flat, tight abdominal appearance. Tummy tucks are especially popular with women after they've finished having children or Mummy Makeover and with men and women after massive weight loss.
What is Tummy Tuck ?
Tummy Tuck or Abdominoplasty is a plastic surgery procedure that removes stubborn fat deposits and excess skin from your tummy. It can tighten the abdominal wall, as well leave you with a tighter, firmer, and more athletic looking mid-section.

Generally the amount of sagging skin left behind after weight-loss surgery determines the appropriate tummy tuck technique. The three terms you refer to – Mini , Full and Extended– refer to three types of incisions.

1. Mini Tummy Tuck : If you have only a small amount of excess skin, the mini-tummy tuck might be right for you. The advantage of a mini tuck is a shorter scar and easier recovery. In addition, it is usually not necessary to reposition the belly button with a mini tuck.
2. Full Tummy Tuck : If muscle and skin are loose throughout the entire abdomen a full tummy tuck our doctor may recommend a Full Tummy Tuck. A full tummy tuck procedure involves a longer incision across the lower abdomen as well as an incision around the navel. Atrophied or weakened abdominal muscles are repaired and sutured through this incision, while excess fat, tissue and skin is removed. 
3. Extended Tummy Tuck : In this expanded procedure, in which our doctor also removes excess skin from a patient's sides and improves muscle laxity at the flank (or "love handles") and hip region.
Result and Follow up
The surgery time is varied to the numbers of the concerned areas, approximately from 2 to 4 hours. The patient will need to undergo general anesthesia during the operation. Lab Check-up is required to the patient before the surgery.

The incision for a full abdominoplasty usually runs from hipbone to hipbone, and may be in a V-cut or U-cut shape, so that the scar can be hidden in a bikini. Your surgeon will determine the shape and length of the incision based on your preferences and the amount of correction you need. You may also have an incision around the navel. With a mini-tummy tuck, the surgeon can place the incision as low as possible; it can be hidden in the pubic bone area. The abdominal skin that is removed is below the navel, and there are no incisions around the navel. The length of the mini-tummy tuck incision will vary based on how much skin your surgeon removes. With a high lateral tension abdominoplasty, scars are longer and often higher than scars in more traditional abdominoplasties and mini-tummy tucks. It is common not to excise the umbilical (navel) site, because not as much skin is removed centrally.

Immediately after surgery, you will not be able to stand up straight. Since the operation involves tightening the abdominal muscles, you will need to keep a slightly flexed position at the waist (walking slightly hunched over) for 2-3 weeks after surgery. During this time you may want to place a pillow under your knees while in bed to keep the tension off of your incision as it heals. Your abdomen will relax as part of the healing process after surgery.

---
Testimonials
---
Testimonials Write a review
Order by:
Be the first to leave a review.
Show more
.