natural buttock enhancement
by Stemcell Fat Transfer (CAL®)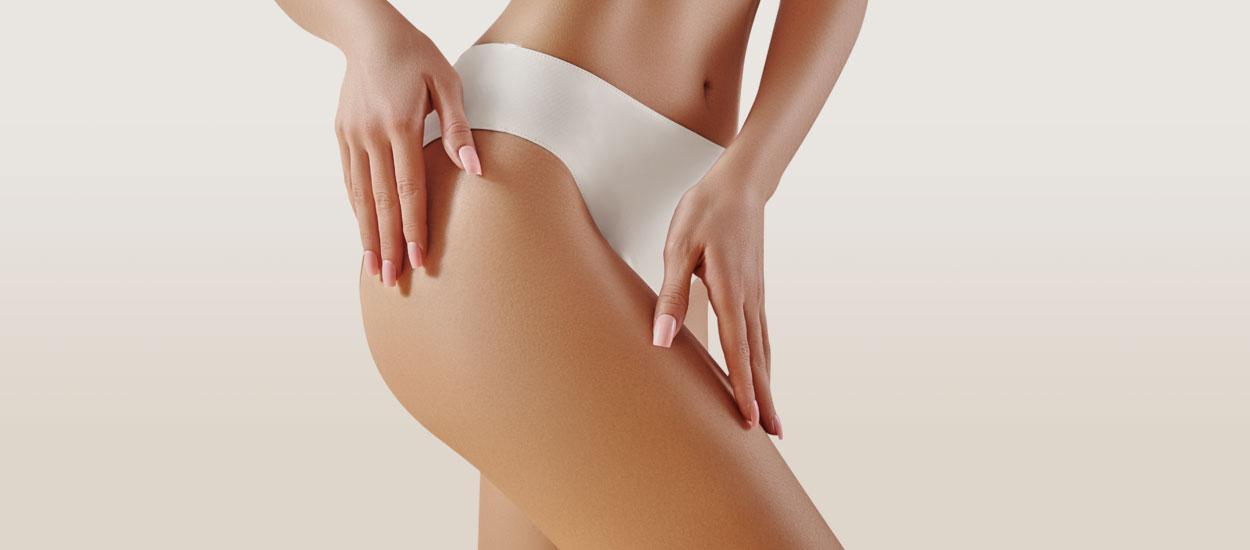 *Recovery times / Results May Vary
Your self-confidence, body image and sense of self are all tied to the way you look and what you project to the outside world. Enhancing your natural appearance with cosmetic surgery can provide a boost to your self esteem and subtle changes that bring about a vibrant glow. A bigger, rounder, and fuller buttocks is one of the most commonly desired features for women in today's world.
What is Buttock & Hip Augmentation by CAL®
Naturally enhance the shape and size of your buttocks and hips with your own fat. For people that want to avoid implant surgery in a sensitive area like the buttocks, this is an ideal alternative to augmentation by using implants.
The stemcell fat transfer procedure is a combination of tumescent liposuction or (liposculpting) and moving that fat to other areas of the body to create a smooth and sculpted look. This is an outpatient procedure and the two most common areas augmented with the fat removed are the buttocks (also known as the Brazilian Butt Lift). The tumescent lipo procedure reduces the risks associated with traditional liposuction for quick recovery time and little residual pain.
Who are Good Candidate?
Our plastic surgeon will review your full medical history with you to ensure you are a good candidate. Basically you need to be in good health and free of medical conditions such as diabetes, untreated high blood pressure, significant heart disease or blood clotting disorders.
What is Stemcell Fat Transfer by CAL®
Stemcell Fat Transfer or CAL (cell assisted lipo transfer) is a procedure where we harvest stem cells from fat extracted out of your own body and then, after mixing them with more fat, also taken from your own body, we transfer it to restore a youthful contour to the face, breasts, lips, hands and buttocks. The enriched stem cells within the fat will encourage the growth of new blood vessels to nourish the transplanted fat and may also stimulate the production of new fat cells. Compared to conventional liposuction-transplantation techniques, the survival rate of this enriched fat is much higher.
Result and Follow up
The surgery time is varied to the numbers of the concerned areas, approximately from 1 to 4 hours. The patient will need to undergo general anesthesia during the operation. Lab Check-up is required to the patient before the surgery.
One of the most important recovery tips regarding Brazilian butt lift surgery is to not sit directly on your buttocks for at least eight weeks after the procedure. Patients are often advised to sleep on their stomach or sides, and if you absolutely do have to sit, it is recommended to use a donut pillow or inflatable pillow. Placing the pillow behind your legs is helpful to avoid putting pressure on the fat graft by raising the buttock. This is very important to achieve long lasting results, as sitting directly on the buttocks can affect blood circulation in the area.

---
Testimonials
---
Testimonials Write a review
Order by:
Be the first to leave a review.
Show more
.