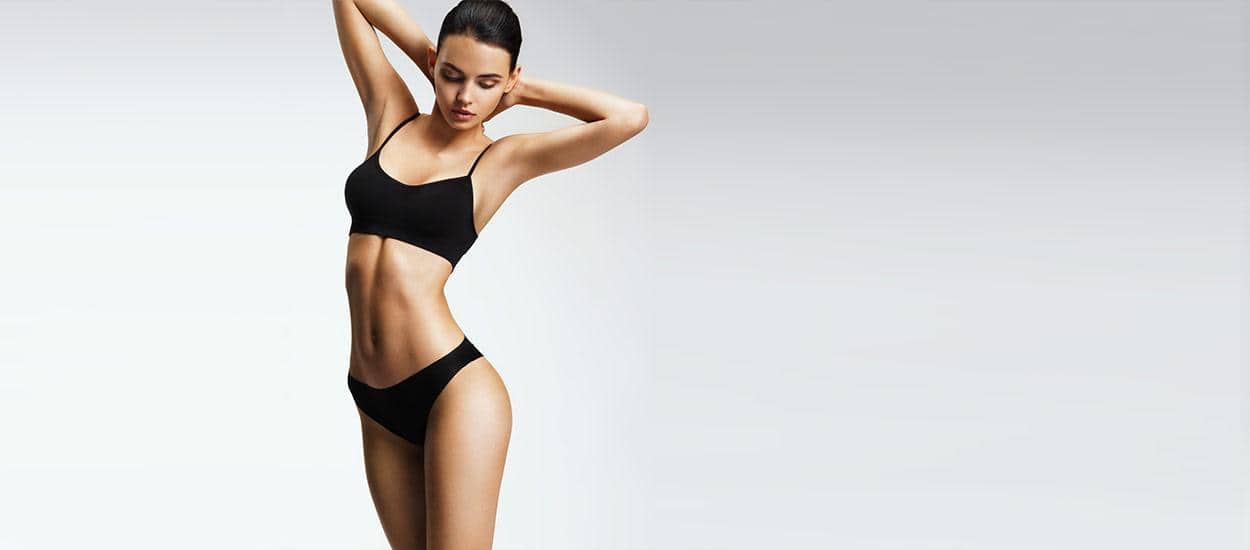 *Recovery times / Results May Vary
Despite a lifestyle of healthy eating and exercise ladies often find areas and pockets of fat that are hard to remove. Though perfectly natural and not harmful many seek to remove these fat pockets in favour of a more svelte and defined silhouette. VASER is a fat removal ultrasound technique intended to reduce fat and improve the contour of the treated area. Though ultrasound assisted liposuction is not meant to be a weight loss tool, it can safely remove larger amounts of fat in areas that are difficult to treat with traditional liposuction.
T he best candidates for ultrasound assisted liposuction (VASER) generally do not differ from candidates for standard liposuction. You may be a good candidate if:
• You are near or at an ideal weight for your body type
• You have pockets of excess fat in particular areas
• You possess a firm, elastic skin tone

Additionally, it is important that candidates for ultrasound assisted liposuction are in good overall physical and psychological health. Older patients with diminished skin elasticity may not obtain the same results as younger patients.

Vaser liposuction is the surgical removal of fat from specific areas of the body. The vaser liposculpture procedure is so precisely targeted that it can be used on areas that traditional lipo cannot treat.
• Chest or bust
• Upper and lower back
• Upper and lower abdomen
• Flanks / waist
• Hips
• Buttocks
• Calves  
• Knees  
• Ankles
• Chin / neck
• Arms
• Inner and outer thighs
What is VASER Liposuction ?
Vaser liposuction, also called LipoSelection, is another alternate technology to traditional liposuction. Vaser ultrasonic liposuction is still a process by which fatty deposits are removed from beneath the skin to improve the aesthetics of a particular body part. Optimally, patients who are treated by Vaser liposuction are in good physical condition and are looking for a contouring or body sculpturing as opposed to using liposuction as a way to lose weight.

In the case of vaser liposuction, tumescent liquid, or a saline solution mixed with anesthetics, is injected into the body area being treated. Instead of using a cannula and manual movement to break down the fat tissue, or a laser, or water pressure, vaser liposuction uses ultrasound high frequency vibration to break fat cells apart.

The cosmetic surgeon uses Vaser ultrasonic probes, inserted into the fatty tissue to gently break the fat cells down. The vibration gently disengages and loosens the fat cells and ultimately emulsifies the tumescent fluid that has been infused into the body area. Once the emulsification is in process, a small cannula is used to remove the liquid and the fat cells. Some of the local anesthetic remains in the tissue and that helps to reduce post-procedural pain.

This process is considered gentler that the more traditional liposuction techniques and ultimately offers your cosmetic surgeon a great deal of control and you get the smooth, contoured look for which you are looking. Additionally, vaser liposuction is specifically designed to loosen fat but to protect and preserve other tissues and by using the saline solution there is typically less bleeding and bruising.
Result and Follow up
Following surgery, our surgeon will ask that you wear a compression garment to cover the treated areas for up to several weeks in order to control swelling and enhance healing. You will experience some swelling, bruising and discomfort that may obscure results temporarily. Bruising and swelling typically subside within 2-4 weeks of surgery. Initial discomfort or pain can easily be controlled with oral pain medication. The final results of ultrasound assisted liposuction will take shape over 2-3 months. You should be able to return to work within a week and resume most physical activities, including exercise within a month. The results of ultrasound assisted liposuction will be more or less permanent. However, if you gain a significant amount of weight, the results may be altered. Maintaining a healthy diet and exercise program will result in longer-lasting results.

---
Testimonials
---
Testimonials Write a review
Order by:
Be the first to leave a review.
Show more