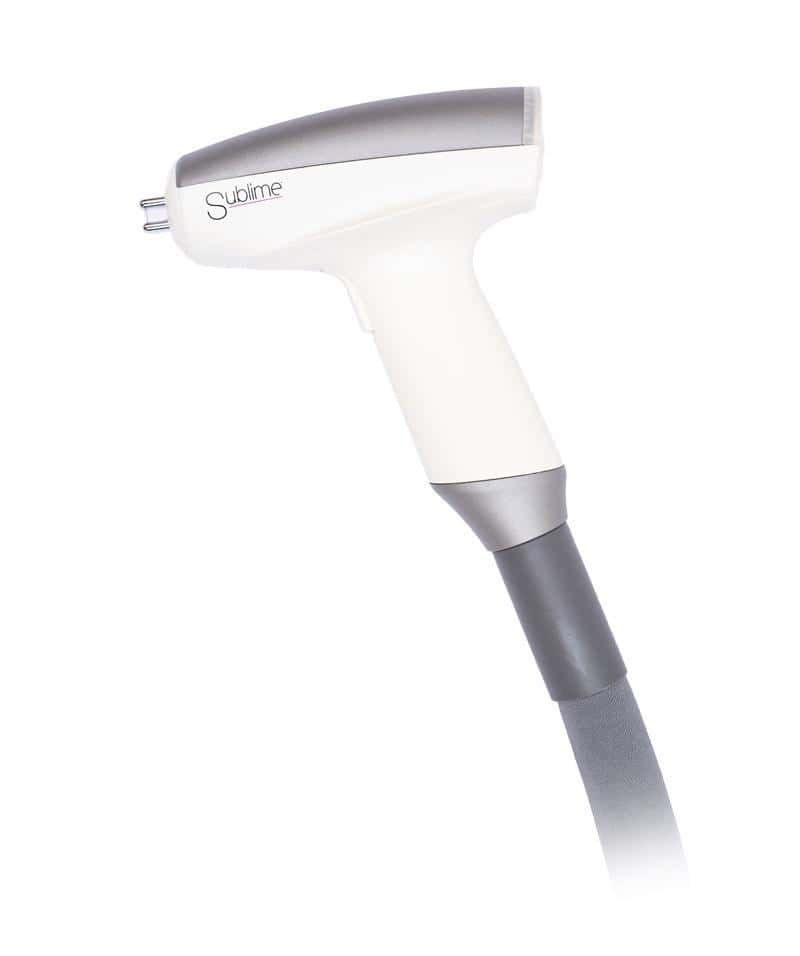 *Recovery times / Results May Vary
sublime
Elos Plus : Skin Tightening Laser
Sublime by Elos Plus combines safe and effective levels of infrared light and bipolar radio-frequency energies to remodel the dermal layer of the skin by stimulating new collagen growth. With exclusive combination of energies provides ideal treatment outcomes with a very low risk of side effects and virtually no down-time. This innovation is the first and only technology that uses combined energies to effectively stimulate collagen production and improve your overall skin quality in areas that are most telling when it comes to age, such as the eyes, brow lines, cheeks and around the neck.
Sublime for Facial Contouring & Wrinkle Treatment
The Sublime applicator is intended for non-invasive wrinkle treatments. The Sublime procedure uses the elōs combination of gentle pulsed infrared light (wavelengths 700-2000 nm) and bi-polar radio frequency (RF) to provide deep dermal heating. Collagen and elastin depletion in the dermis result in the loss of dermal volume, creating sagging of the skin. This treatment stimulates long term collagen synthesis, resulting in an immediate and long term firmed appearance.
How does Sublime™ work?
- The combined bi-polar radiofrequency and light energies of elo-s technology precisely heat the dermal tissue, stimulating collagen production within the target treatment area. Fine wrinkles are reduced, facial contours improved and overall skin quality reveals a much smoother and even complexion.

- The Skin Tightening by Syneron™ is the newest non-surgical facial tightening treatment. It uses the revolutionary elôs technology, the first and only combined energy technology using the power of bipolar radio frequency and light energies. It is designed to be the safest, most effective and comfortable aesthetic technology available today. Elôs uses a combination of radio frequency and light to isolate the treatment area and leave the surrounding skin free from potentially harmful side effects. There is no downtime and patients can return to their daily schedule without an problems.
Comparing Sublime to those with similar functions
- More safety and satisfaction
- Significantly less energy required
- Minimal to no downtime
- Enhance patient comfort and convenience
1
How long does a treatment take?
It usually takes less than 30 minutes, depends to the area treated.
2
How soon until I see my results?
Most patients will see significant improvement following four treatments. The number of treatments you will need depends on each individual's skin type. There is no downtime and many patients return to normal activities immediately after treatment